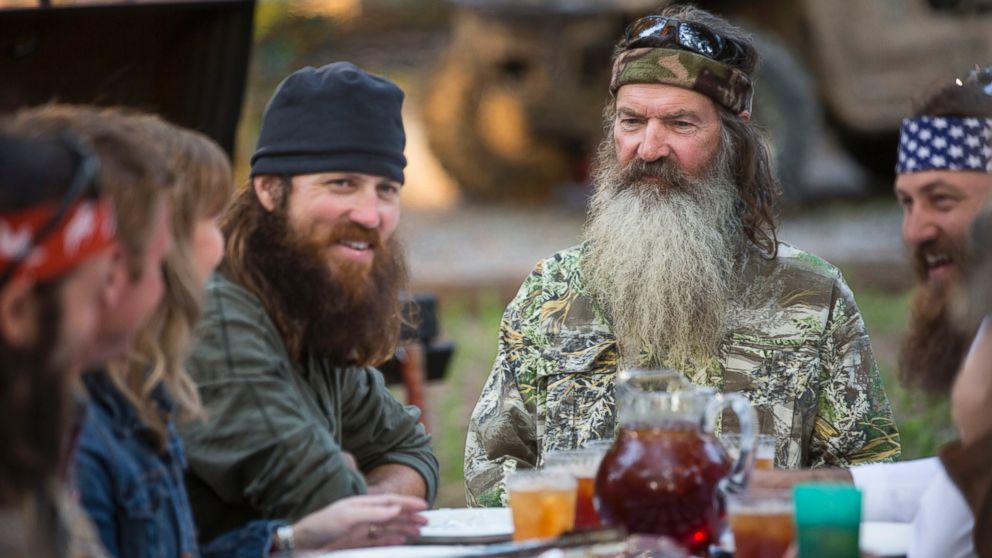 WARNING: rough language ahead
Phil Robertson, of the wildly popular reality show Duck Dynasty, was recently pilloried by gay rights activists for colorful comments he made in an interview with Drew Magary for GQ.
Robertson's crime? He's heterosexual. He considers lady parts more attractive than men's backsides.
"It seems like, to me, a vagina—as a man—would be more desirable than a man's anus. That's just me. I'm just thinking: There's more there! She's got more to offer. I mean, come on, dudes!"
His other crime? He's a Christian.
"We're Bible-thumpers who just happened to end up on television," he tells me. "You put in your article that the Robertson family really believes strongly that if the human race loved each other and they loved God, we would just be better off. We ought to just be repentant, turn to God, and let's get on with it, and everything will turn around."
To top it all off, he believes promiscuity and homosexual activity are sinful.
"Everything is blurred on what's right and what's wrong," he says. "Sin becomes fine."

What, in your mind, is sinful?

"Start with homosexual behavior and just morph out from there. Bestiality, sleeping around with this woman and that woman and that woman and those men."
Gay rights agency GLAAD called his comments "some of the vilest and most extreme statements uttered against LGBT people in a mainstream publication" and promptly "reached out to A&E to speak about if the network stands behind Robertson's comments."
Of course the network does not stand behind any comments that GLADD finds offensive and they promptly suspended Robertson from starring in his own reality show for an indefinite period of time. They released a statement that Robertson's "personal views in no way reflect those of A+E Networks, who have always been strong supporters and champions of the LGBT community. The network has placed Phil under hiatus from filming indefinitely."
Restaurant chain Cracker Barrel promptly yanked their Duck Dynasty merchandise off their shelves in solidarity with the offended community.
Backfire
But then something interesting happened. Instead of getting all their ducks in a row, the gay rights lobby, restaurant, and network discovered that, by golly, Phil Robertson and family, who live out their lives in public on a televised reality show, actually are heterosexual Christians who believe everyone sins and needs a Savior. And they still consider homosexual sex sinful.
And they were not about to back down. The Robertson clan told A&E, "We cannot imagine the show going forward without our patriarch at the helm." And lo and behold, millions of their fans felt the same way and rallied around the Robertson family through social media. A campaign on Facebook to boycott A&E until Phil is reinstated garnered nearly 1.8 million likes.
Cracker Barrel quickly reversed its blackout of Duck Commander gear.
"When we made the decision to remove and evaluate certain Duck Dynasty items, we offended many of our loyal customers. Our intent was to avoid offending, but that's just what we've done. You flat out told us we were wrong. We listened. Today, we are putting all our Duck Dynasty products back in our stores. And, we apologize for offending you."
Philming
As for Robertson's time-out, it was a short hiatus. A&E decided to resume airing new episodes of one of cable's most popular shows, complete with its outspoken leader on January 15. After all, as any Bible quoter can tell you, where your treasure is, there your heart will be also.
Robertson's comments about body parts might sound coarse coming from a guy on a family show, but they are mild compared to what comedians and liberals dish up daily. Robertson was reamed for raving about a woman's vagina. But where is the outrage when gay rights activist Dan Savage calls it the "hole [that] sh*ts babies"? Isn't Savage still the White House's anti-bully leader?
The Robertsons are camouflaged by their hippyish long hair and beards. They act like rednecks clinging to their guns and Bible. But underneath their red, white, and blue bandanas, could it be that they are what they say they are? Bible believers with family values.
Throughout the flip flopping flap surrounding them, the Robertsons revealed their integrity. They are straight shooters who are keeping it real.
Meanwhile, GLAAD is left holding their anti-bully smoking gun pointed at themselves, revealing their intolerance for heterosexuals and Christians. It must be maddening to GLAAD that Robertson still believes that same-sex sex is unappealing, illogical and sinful. And even more frightening for gay rights activists is the stark reality that millions agree with him.
Kelly Bartlett has been practicing life, love, and marriage for decades, hoping to improve her game. She writes from Vermont.